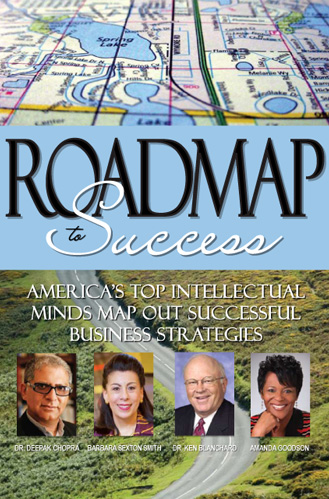 Roadmap to Success
AMERICA'S TOP INTELLECTUAL MINDS MAP OUT SUCCESSFUL BUSINESS STRATEGIES
To be successful in life we all need a detailed plan or set of instructions to guide us in getting from where we are to where we want to go.
Roadmap to Success is a tool you can use to plot your course by learning from several of the most successful people in the business today.  These people have the experience and proven ability to steer you in the right direction.  You will find their broad perspectives of leadership will give you tips and strategies about how to reach the top and stay there.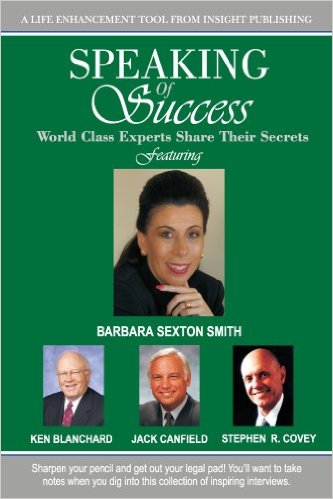 Speaking of Success
WORLD CLASS EXPERTS SHARE THEIR SECRETS
Speaking of Success is an inspiring series of frank and intimate interviews with world class experts and best selling authors Stephen R. Covey (Seven Habits of Highly Effective People), Ken Blanchard (One Minute Manager), Jack Canfield (Co – creator of Chicken Soup for the Soul) and nationally recognized CEO Barbara Sexton Smith.
For anyone who wants to unlock their potential, remove mental blocks and gain a whole new perspective on how to travel the road to success, this collection of time-tested strategies and experiences will help you expand your horizons and be the success you were meant to be.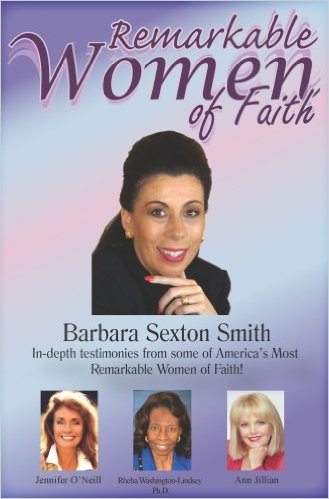 Remarkable Women of Faith
TESTIMONIES FROM SOME OF AMERICA'S MOST REMARKABLE WOMEN
Barbara Sexton Smith is a featured author in Remarkable Women of Faith from Insight Publishing. Also featured in this dynamic collection of interviews are Jennifer O Neil (Motion picture Actress, Cover Girl Model and Motivational Speaker) and Ann Jillian (Broadway, Motion Picture and TV actress, spokesperson and motivational speaker).
This exciting series captures the insights, strategies, and inspiration of faith-minded Women and other dynamic professionals who offer powerful lessons in faith.
GET YOUR COPY TODAY
Order Now!